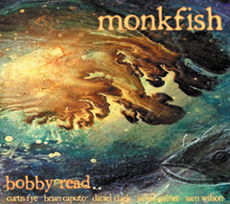 Track list:

1 spin cycle 7:53
2 pixelydian 4:30
3 sammy shows up 7:11
4 then night 5:46
5 changeling 5:41
6 squeaky wheel 4:02
7 six am 5:30
8 monkfish 4:40
9 pass the time 6:20
10 ruckus 6:28
11 rainy day 5:46
12 first day 6:40

Mp3 samples from all tracks are available here.
MONKFISH CD
Featuring Bobby Read on windsynth, horns and tunes, Brian Caputo on drums, Curtis Fye on bass, Daniel Clark on B3, rhodes and clavinet, and Sam Wilson or Jamal Millner on guitar, this is a CD of jazz based tunes, some groovacious, some introspective, with strong melodies and great playing all around.

Recorded in April 2005 at Small World and the first release for Small World Music. Great cover art by Mark Holmes.
Mp3 samples from all tracks are available here, as well as 2 entirely free complete tunes from the cd.

$15.00 including shipping

Buy the CD thru CDBaby HERE