MONKFISH | BOBBY READ QUARTET - SIMBIA


SECRET SAUCE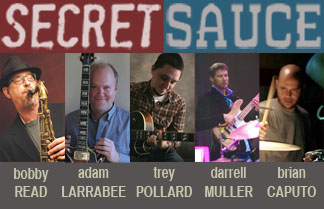 Secret Sauce is in a new incarnation featuring 2 new great guitarists - Adam Larrabee and Trey Pollard. Along with Bobby Read on horns, Brian Caputo on drums and Darrell Muller on bass, they play energetic funky jammy jazz-rock in the vein of John Scofield & Modeski Martin and Woods.
The band has yet to record a cd but will be playing local gigs, so keep your eyes open. Meanwhile take a listen to any of these mp3s from our, gulp, first gig with this lineup at the Crozet Music Festival!
1. Squeaky Wheel (Read)
2. Do Like Eddie (Scofield)
3. Summer Song (Larrabee)
4. Thunk (Read)
5. Fliff Night (Larrabee)
6. Monkfish (Read)
7. Pixilydian (Read)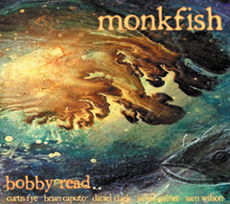 Monkfish is described by an early reviewer as "jazz fusion with intelligence and soul." The tunes range from retro funk to pensive ballads and explore many of the twisty sidestreets of jazz. Integral to the Monkfish sound is a group of great young players from Charlottesville and Richmond -- Sam Wilson and Jamal Millner on guitars, Curtis Fye on bass, Brian Caputo on drums and Daniel Clarke on Hammond organ, Clavinet and Fender Rhodes keyboards. Monkfish was recorded over two days at Read's studio, Small World Audio, near Charlottesville, Virginia.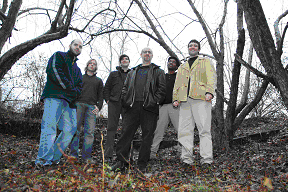 photo by Phil Audibert
Monkfish showcases Bobby's recent explorations with the wind controller, a synthesizer controller that you play like a saxophone. Bobby has been using the wind controller extensively on the last several Hornsby tours. The wind controller allows access to both the expressive possibilities of the saxophone and the expansive range of sounds available in electronic music.
Mp3's available here
Buy the CD thru CDBaby HERE

For more information, interviews, or promotional copies of Monkfish contact:
Bobby Read
Small World Audio
540-456-6999




Wells Hanley (piano), Curtis Fye (bass) and Brian Caputo (drums) join me in this acoustic quartet recording entitled 'Simbia'. Recorded in 3 short sessions, captured here is the first impressions of the tunes by these fine players. 12 original tunes with their feet in the rich tradition of the jazz standard informed by modern sensibilities.
This record is dedicated to George Horan, great mentor and guide in music to many of us fortunate to have played in one of his award winning bands at Langley High School in McLean, VA.
Mp3 samples are available here
Buy the cd thru CD Baby here
Buy the tracks thru ITunes here
Download a PDF One-sheet