Recording News

The Bobby Read Quartet cd 'Simbia' is available now - thru CD Baby or iTunes

I am nearly done with a NEW ep of 4 new tunes, entitled 'Out of My Mind' that will be available soon for download only, along with downloadable artwork (see below) as well. For the moment, check this one out......it's called We Come We Go- click here to listen .

The 2nd half of this tune was inspired by and played after hearing about the oh so unfortunate passing of R.S. Hornsby. A special shout out to Nate Brown for really great drumming on these tracks.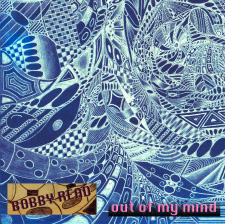 I've added a whole lot of new content to the Listening Room page. There is a big section that I will slowly add to as I try to archive all my own music from the past - dance and theatre scores, national geographic scores, experimental and electronic stuff, other commisioned music, cuts from other cds/bands I've been part of.

There are also numerous samples of things I've produced and /or recorded for other people. Go check it out - there's a couple of hours of music up there to enjoy.
The Listening Room also now includes a section of demo cuts of the Bobby Read Quartet playing some of the standard jazz repertoire, and if this music interests you for private parties and functions, please feel free to contact me through this website.